A Destination in Your Own Backyard
Departing Breakfast – Airport Transportation Available

Beaver Hollow is unlike any destination wedding location you have ever experienced. Not only will your wedding be nestled on 300 awe-inspiring acres, bejeweled with its own private lake, but the sky is the limit when it comes to luxury and customization…
A destination wedding in your own backyard. Experience the elegant and truly unique setting Beaver Hollow will offer for your wedding.

Wedding Packages start at $200 per person, including: Ceremony, Top Shelf Open Bar, Hors D'oeuvres, Dinner and Late Night Bon Fire!*Complimentary Overnight Guest Room with Breakfast for Bride and Groom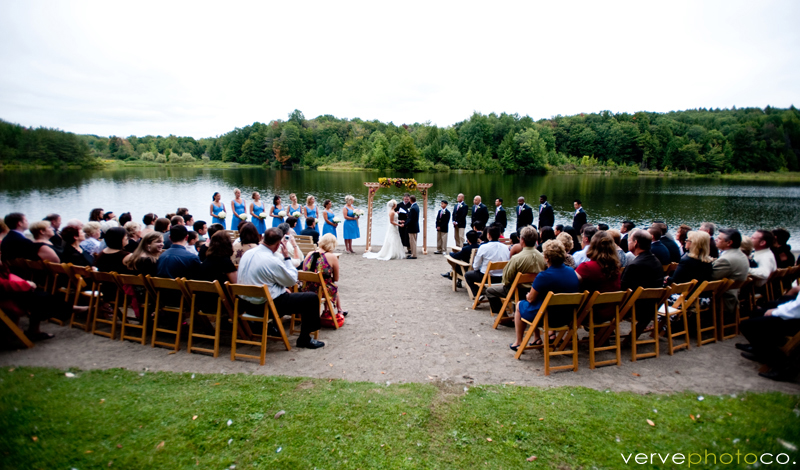 All wedding packages include:
Your Outdoor Ceremony
Indoor Backup Space for you Event
Tasting and Planning Meeting
Kids Meals and Vendor Meals at Discounted Rates
Discounted Overnight Guestroom Rate of $185.00 per Room (Two Adults Maximum) with a Full Breakfast Buffet
Legendary Nightly Bonfire with S'mores
Complimentary Cake Cutting
Wedding Packages $200 per person
Ceremony Location on Property
Dinner Includes:
Four Hour Top-Shelf Bar
Cheese Display and One Hour Butler Passed Hor D'oeuvres
Choice of Three of the Following: ( This is just a sampling of your many choices )

HOT
Artichoke Fritters, Truffle Honey
Artichoke, lemon, scallion in a fritter butter, truffle honey dipping sauce
Warm Brie, Poached Pear in Phyllo
Petite Phyllo cups filled with brie, walnut and poached pear
Coconut Chicken Bites, Apricot-Horseradish Dipping Sauce
Free-range chicken bites, rolled in coconut, apricot jam and horseradish
Steamed Vegetable Dumpling
Ponzu Sauce
Assorted Focaccia Bites
Seasoned flat bread baked with assorted toppings
Spinach and Feta Triangles
Seasoned spinach, imported feta, buttery Phyllo pastry
Truffle Fries, Truffle Salt, Grilled Onion Ketchup
Crispy thin fries, truffle salt, house-made ketchup
Bacon-Wrapped Breadsticks
Crispy bacon wrapped around a breadstick with parmesan
Beek on Weck Sliders
Thinly sliced roast beef served on mini Kaiser rolls with horseradish
Roasted Vegetable Quesadillas
Assorted vegetables and melted cheese in a flour tortilla

COLD

Veggie Rainbow Rolls
Julienne vegetables, hummus rolled in a cheddar tortilla
Crab Salad in Phyllo Cup
Crab salad in Phyllo cup
Vegetable Crudite
Fresh vegetables with assorted dips and pita chips
Bruchetta Trio
Olive Tapenade, Tomato Basil Salad, Eggplant Caponata
Boursin Stuffed Cherry Tomato
Creamy Boursin cheese stuffed in cherry tomatoes
CHOICE OF ENTREE
Your guests will choose one entrée from the three entrees you pre-select. You may choose two entrees from the beef, chicken and seafood selections. Choose one from the vegetarian selection.

Menus below are a sampling of our vast menu.

All meals include: Fresh Baked Rolls with Creamy Butter, Soup or Salad, Choice of Rice of Potato, Chef's Selection of Fresh Vegetables, Freshly Brewed Coffee, Decaf, Herbal Teas

BEEF
Braised Beef Short Rib with Barolo Sauce, Braised Vegetables & Horseradish Mashed Potatoes Grilled Filet Mignon wrapped in Prosciutto with Port Wine Reduction, Rosemary & Gorgonzola Polenta Grilled Filet Mignon "Diane Style" with Cracked Peppers and a Red Wine Sauce Grilled NY Strip Steak with Maitre D'Butter and Baby Bakers

CHICKEN
Organic Chicken Breast with Wild Mushrooms, Marsala Sauce & Artichoke Risotto Organic Chicken Breast with Truffle Pommes Anna and Roasted Chicken Demi-Glace Grilled Marinated Herb Chicken with Lemon Risotto Chicken Cutlet Milan with Parmesan Crust over Arugula & Lemon Sauce

SEAFOOD
We are Proud to belong to the Monterey Bay Aquarium Seafood Watch. We will only serve seafood that is sustainable, will not harm other marine life or other marine environments. Our Chef will inform you of our choices and preparations upon request.

VEGETARIAN
Roasted Eggplant and Zucchini Stack – with Ricotta and Parmigiano Cheeses served with fresh Pomodoro Sauce Vegetable Strudel – with Onions, Peppers, Mushrooms, Zucchini, Roasted Eggplant and Squash with a Pink Vodka Sauce and Puff Pastry Wild Mushroom Ravioli and Braised Leeks in an Asiago Cream Sauce

COMBINATION DINNERS
A combination Dinner Entrée featuring two Entrees is available for an additional cost.

WEDDING ADDITIONS
Champagne Toast, house brand Wine with Dinner, house brand Party Pack for the Bonfire (24 assorted beers, 12 bottles of water or cans of soda, 2 bottles of house wine presented on ice) , Snack Pack for the Bonfire (30 bags of chips, pretzels and popcorn and assorted candy)
Retreats
Beaver Hollow Conference Center is an ideal setting for religious, spiritual and social retreats of all kinds. Our private, picturesque setting allows a perfect backdrop for reflection and renewal.
Picnics
With abundant recreational activities, incredible food and a beautiful setting your group will have fun and get to know each other at your next company picnic. View our picnic menu.
Luncheons & Dinner Meetings
Host your next luncheon or dinner meeting at Beaver Hollow Conference Center. With many menu and bar package offerings to choose from your next luncheon or dinner meeting will be an event to remember.
Women's Retreats
Host your next scrapbooking, quilting or girl's weekend at our exclusive, private property. We make the planning easy and can accommodate your special requests.
Holiday Parties
Beaver Hollow, decorated in holiday decor, offers a scenic backdrop for your office holiday party. Call us today to receive a holiday menu.
View our holiday party menu